Saturday, I ventured out to the indoor Flea Market to poke around the tools for a few metal rulers to mount to my work bench and take some pictures of the
pyrex
for Erica of
PinkSuedeShoe
.
My service dog, Birdie is so well trained that we always receive compliments on her when we are out. This time was no exception.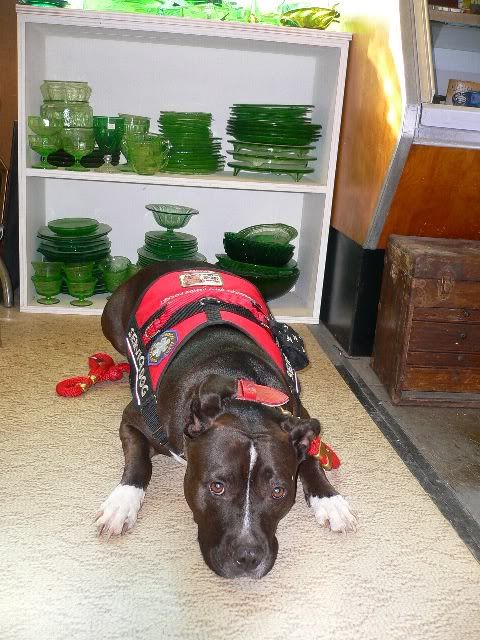 See? I am a GOOD dog. psssst.......Did you see that tool box over there, Mom?
She was laying down mostly out of the way while I snapped pictures of pyrex. I couldn't help but chuckle to myself about a (pit)Bull in a China Shop, so I had to snap a few pictures of her.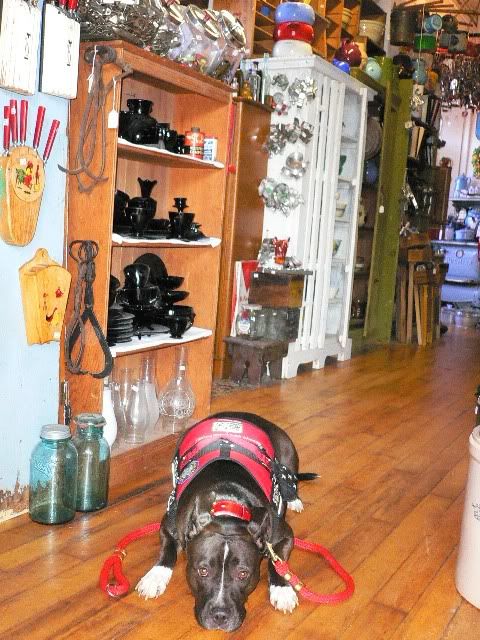 I'm being a good girl. Are you done yet?
The tool vendor remembered me from when I bought some hammers & pliers from him a few weeks prior, he was still amused that I passed over dishes, knick knacks and jewelery for tools. I guess seeing a woman's face light up like a kid on Christmas morning at the sight of so many tools isn't a common occurance.
Hey, what do you want? I'm not normal.
I like tools, especiallay old tools that are still functionable, because I will use them. I spent the better part of an enjoyable hour going through bins, boxes, drawers and cases of tools looking for just the right ones. I found my rulers in just the right lengths, so I didn't have to cut them. 2 for $10? Sold to Crazy Lady with the dog. He threw in the leather knife because he liked us, although I am not sure what it's used for.
While looking around, I just happened to catch a glimpse of a little marble dog sitting on a table full of dog items. I've been looking for dog book ends to keep my leather supply catalogs from toppling off the shelf, so I had to have him. The woman at the stall looked down at my well behaved dog laying down while I poked through all the dog figurines, scratched off the $15 price tag and told me I could have him for $5.00 since she knew I'd give him a good home. Sold to Crazy Lady with the Good Dog.
Flea Market Treasures
Have a look at this handsome little guy! He has a few dings and scratches, but most dogs who actually work end up with some, it just adds to their character. I got the riveting hammer (L) and the leatherworking hammer (R) along with the nippers and needle nose pliers without scoring on the jaws on my last trip. And of course, I had show off a few of the collars I've made recently. The red one is Birdie's personal collar. I made a harness to match it.