I couldn't let the day go by with out posting about one of my favorite medieval Saints,
St. Hubert
, patron saint of hunters, dogs, forest workers, furriers, trappers, archers, metal workers, machinist, mathematicians & opticians. St. Hubert's association with hunters & hunting dogs led to his patronage against rabies, dog bites and badly behaved dogs.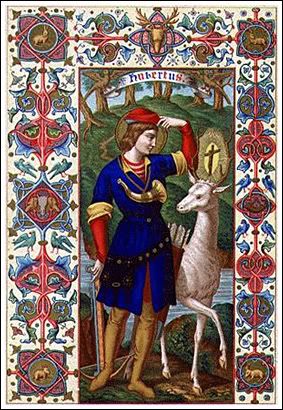 Saint Hubert and the stag, artist unknown
Masses are held to celebrate the Feast of
St. Hubertus
which coincides with the start of the hunting season in many European countries.
According to Saints.SQPN
"Hubert was passionately devoted to hunting. While chasing a stag on a Good Friday morning, he received a vision of a crucifix between the animal's antlers. A voice warned him, "Hubert, unless you turn to the Lord, and lead a holy life, you shall quickly go down to hell." It was a conversion experience for Hubert.

When his wife died, Hubert renounced all his worldy positions, titles and wealth, handed his patrimony, and the care of his son, to his brother, and studied for the priesthood."
I'll revisit St. Hubert at a later date to discuss his achievements & the military orders named for him. In the mean time, I leave you with some of my favorite images of him.
vision de st. hubert